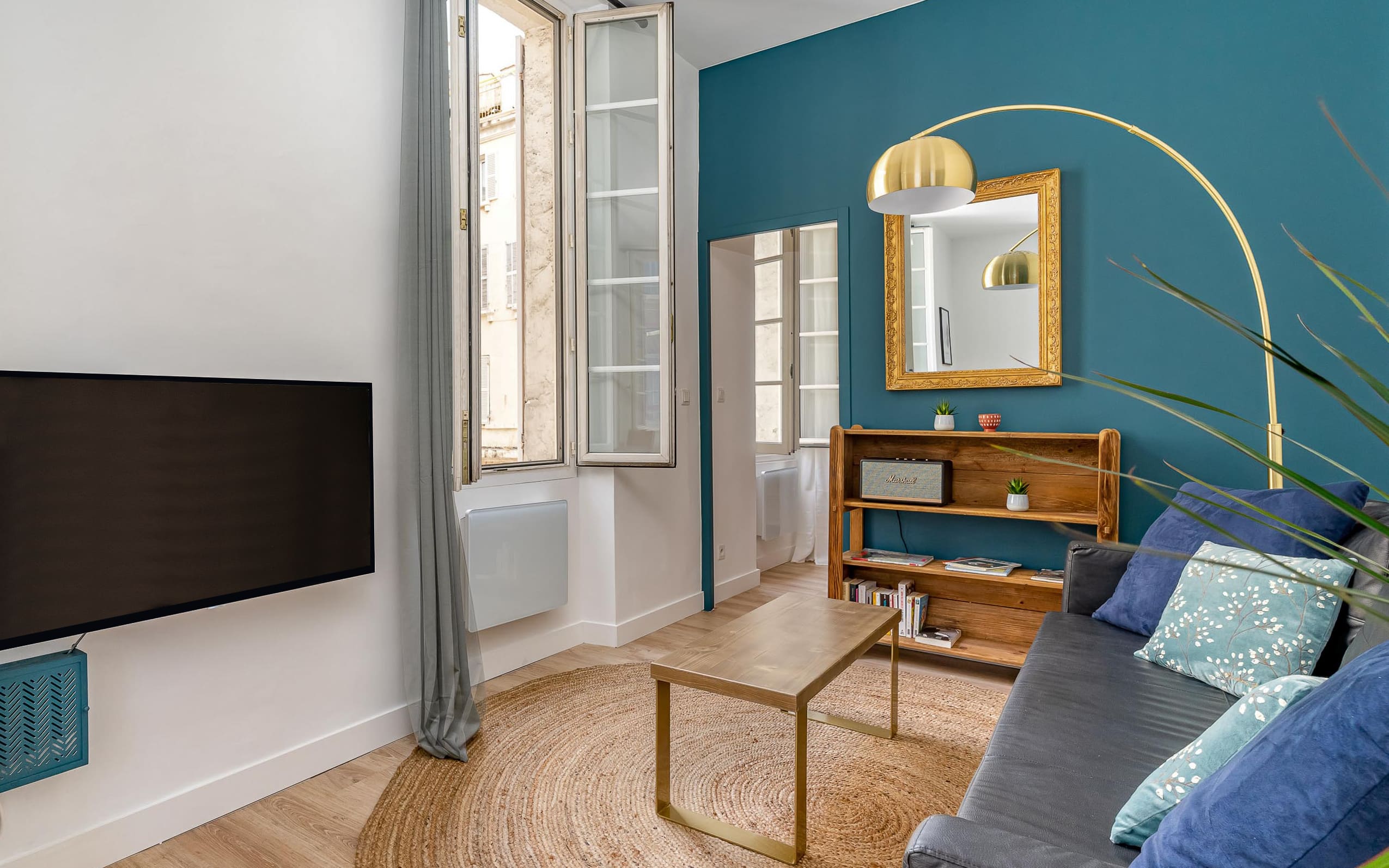 Location de votre meublé de tourisme
Seul(e), en famille ou entre ami(e)s, vivez une expérience authentique au cœur du Vieux-Port de Marseille ! Emplacement idéal, pour ce très bel appartement situé en zone piétonne dans un immeuble typique du quartier historique de l'Opéra. Vous bénéficiez de belles prestations pour passer un agréable séjour dans une ambiance chaleureuse.

Located in the heart of Marseille with easy access to all areas and great restaurants on your doorstep. Instructions were super clear and there is luggage storage within the Ibis hotel where you collect keys which makes it easy if you have an early flight in or late flight out. No lift and on second floor - no problem for us but in case stairs are an issue. Around 20 minute walk from train station. Great space and ideal for a couple or two singles to share if you like being in the centre.
Thomas was a super host. He shared clear instructions with us on everything. The location of the house was super. Its decoration and cleanliness were perfect and complete. I would definitely stay again.
Beautiful apartment right in the centre of Marseille, on what we found to be one of our favourite neighborhoods! 5 min walk to the Vieux Port, walkable to Mucem, Cours Julien, Le Panier... The apartment also have everything that you need. Thomas was a great host, super responsive from the moment of reservation. 2 small bmols that are totally out of the host's control but just so you are aware: the street can be a bit noisy on the weekends for sleeping, and there's a bad smell from sewage in the toilet (it comes from the city, the toilet was spotless clean!)In any case, I highly recommend this apartment and will definitely come back in my next trip to Marseille!!
Thomas׳ apartment was lovely!Super clean and welcoming :)Highly recommended
Great place to stay that felt just like home. Lots of space for two people and it was nice to have some amenities that alot of airbnbs don't offer anymore. The place was spotless, today and minimalist so we didn't feel cluttered. Would stay here again.
Thomas' apartment is in a great location, very central. The apartment was exactly as advertised with all necessary amenities and great wifi! Thanks for having us 🙂
everything was fine. I didn't met the host personally, but it was very well explained how to do the check in and the check out. Anyway, the apartment was great, clean, and super central.Thomas was really reactive via message.I'll come back for sure!